The first in a series of blog posts that will highlight key results of a first-ever survey of senior execs and quality leaders on the role of quality in organizations today and in the future.
There is a growing change in the way organization view the role of quality, according a new survey that  ETQ and Salloway & Associates recently completed. Whether driven by growing global competition, a dynamic regulatory and compliance environment, or market and internal forces, companies today view this as a strategic business initiative and less of a perfunctory obligation.
We surveyed 300 C-level executives and IT leaders to gather their input on the role of quality in their organizations today and how that role may evolve in the future. Survey participants came from the life sciences, food and beverage and manufacturing industries and offered their views on how their organizations are committing to this initiative now and in the near future. (Note: This survey was conducted in early 2020, before the Coronavirus pandemic. Undoubtedly, current events may alter some answers now, but we believe the underlying ideas are still directionally valid. In the early stages of the pandemic, ETQ undertook a smaller, more focused work survey of professionals to specifically gauge the impact of COVID-19 on their work processes. We will post about those results soon.)
On average, our 300 survey respondents see a 23% return on quality investments. So, it is no surprise that 66% say they are committing more seriously to quality as a strategic business initiative — not just an operational compliance issue.
How Well Do Organizations Manage Quality?
One key indicator that organizations are committing to this initiative as a strategic priority is the growing tendency to prioritize quality goals even if it might delay product delivery. We found that 68% of CXOs, Supply Chain Quality Managers and IT Managers supporting this initiative say they have a high or very high probability of prioritizing these goals despite potential product delays.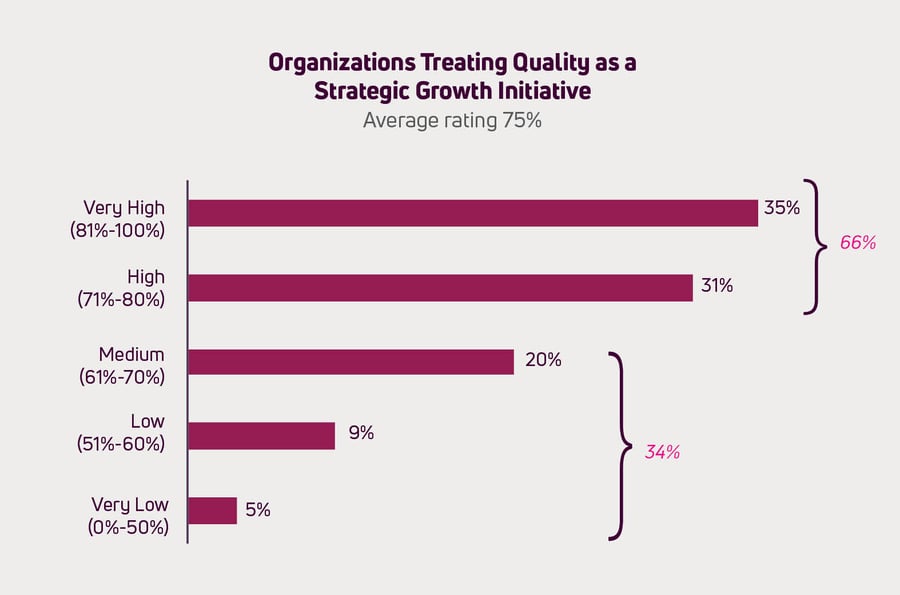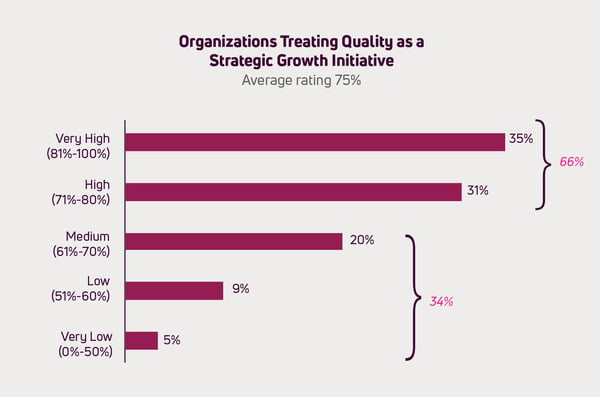 Even as the consensus shows in our sample that this is emerging as a strategic priority, there remains a disconnect between the CXO and Supply Chain Quality Management and IT Management levels in their perception of their organization's performance today.
Our survey results show that 57% of CXOs say they are doing "great" at managing this today compared to 40% who say they are doing "good." When we look at the Quality/Supply Chain Management level, the results are flipped with 41% saying their organizations are doing "great" and 57% saying "good." Then there are the 63% of IT managers who feel their organizations are doing "good" compared to 33% who say "great." This discrepancy could be attributed to the fact that CXOs are mostly focused on the big picture and not dealing with the day-to-day challenges of enforcing a robust program.
These discrepancies carry over into the segmented view of how this is being prioritized. While most CXOs (43%) say they are very highly likely to prioritize quality even if it delays products, most Supply Chain Managers (38%) rate themselves a bit lower.
What does all of this mean for the state of quality management? Even though more organizations are committing to quality and investment more heavily in both programs and people, there is still room for improvement in the next three to five years.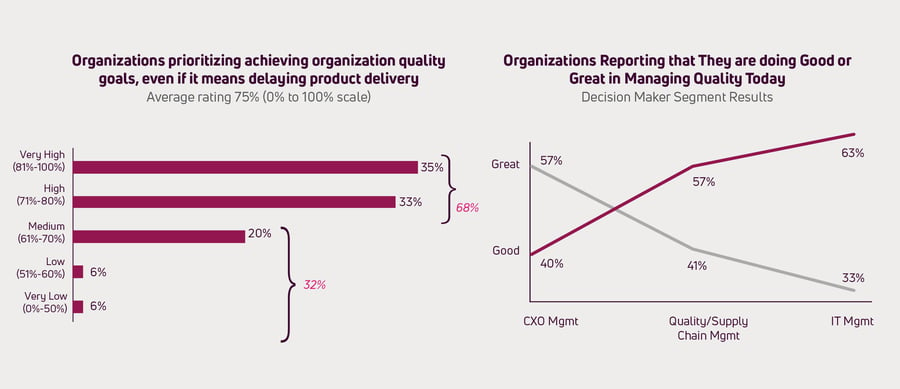 Taking Steps Toward Organizational Improvement
The state of management isn't just about strategic commitment over the next few years. Our research also intended to provide insight into how organizations are acting on the growing commitment to quality as a strategic business initiative.
What we found is that organizations are taking a variety of steps toward improvement. However, none of them are being taken on a wide scale. For now, a few of the approaches toward improvement include:
Creating a culture of quality (51%)
Investing in company-wide training (49%)
Improving supplier quality (49%)
Investing in QMS solutions (48%)
Hiring personnel (47%)
Investing in analytics (45%)
Specifically, the companies that are managing quality at an above-average level are most focused on investing in company-wide training and improving supplier quality. But over the next three-to-five years, this commitment must continue if organizations want to reap the full benefits of this as a strategic driver across departments.
One way to improve overall organizational quality is to invest in the right tools that will maximize the effectiveness and efficiency of quality programs and processes. Our survey results showed that the two most prominent management tools are currently QMS software and Risk Management solutions.
However, we are not seeing wide-scale adoption just yet. At the enterprise level, 62% of organizations currently use EQMS software and 50% have a Risk Management and Analysis tool. Adoption among mid-market organizations is lower, where 53% have QMS software and 39% have a Risk Management and Analysis tool. In fact, nearly as many (36%) mid-market organizations still use paper files for management.
As spending on people, processes and technology increases, it is important to make the right investments for your organization that will enable you to banish manual outdated, and inefficient management processes.  At ETQ, we deliver solutions that match our customers quality processes and workflows which allows them to draw value from their automated QMS more quickly.
Our full research report can give you deeper insight into how all organizations in the Life Sciences, Food & Beverage and Manufacturing industries are approaching substantial or moderate investments in quality over the next three to five years. If you want to learn more, download the eBook for additional findings about the current state of quality management.
ETQ helps organizations realize the business opportunities that quality creates. Our industry-leading Reliance QMS solution features built-in best practices and best-in-class flexibility, with the software enabled to optimize the critical processes that drive excellence through quality.
To learn more about how ETQ can help you become a quality leader, contact us today. Alternatively, reach out for a demo, and find out how to move through your quality journey.